The RiZZ luxury doormat range

Your doormat is the first thing your guests see when they arrive at your doorstep. It's a small detail that can make a big impact on the overall impression of your home. So why settle for a bog standard doormat when you can have the best?
In this blog, we'll explore the full range of RiZZ luxury doormats, including their key features and which interior styles they suit best, keep reading to find out more.
High-quality outdoor mats
Our outdoor mats are specifically designed to make a statement at every entrance of your home. Perfect for your front and back doors, patio and terrace, these mats add a touch of elegance while keeping dirt and debris outside where they belong.
Handcrafted from high-quality, sustainable materials, each outdoor is built to last. Robust aluminium frames ensure a sleek and sturdy base, combined with state-of-the-art brush and anti-slip strips to trap dirt while keeping them securely in place.
Perfect for those with a passion for contemporary interiors, you can choose from a selection of modern colours and standard sizes. Alternatively, add your own measurements to make sure you get the best size and fit for your home.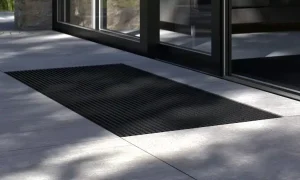 The perfect terrace mat
Our mats are a popular choice among customers who want to complete the look of their terraces. Whether you're aiming to create an outdoor oasis or the ultimate entertainment space for your loved ones, a RiZZ doormat is the perfect finishing touch.
Limited edition black mat
For those with a love of monochromatic colour schemes, we also have our limited edition all black outdoor mat.
Combining all the special features you'd expect from our high-quality mats, but with the added bonus of being exclusive, this limited edition mat marks 80 years of excellence. A must-have item that only a privileged few will get the chance to own.
Recessed mats
Incorporating the same unique design and functionality but with the add bonus of recessed installation, a recessed mat could be the perfect solution for those who are drawn to a more minimalist style home.
Luxurious indoor mats
Unlike our outdoor mats that eliminate dirt, the range of indoor mats are designed to keep the soles of shoes dry, stopping mud and moisture from being tracked through the house.
These mats provide the perfect finishing touch to your entryway, with high-grade carpets made from recycled fishing nets, finished with genuine leather edging. Available in 3 modern colours, these mats perfectly complement the design of our outdoor mats while serving a different but equally as important purpose.
Additionally, each mat is made to fit the size for your doors, perfectly. Standard sizes include regular, wide and double (patio) doors. But, if you need a custom-made mat, we've got you covered!
Complete your home with the perfect set
Looking to add that extra touch to your home decor? Complete your look with the entire RiZZ collection! Our mats are designed to perfectly complement one another, creating a sleek and elegant aesthetic that's perfect for both indoor and outdoor use. And don't forget about our beautiful brooms, which can be mounted alongside your mat to add that special finishing touch.
If all that wasn't enough, all our mats and brooms come with a 10-year warranty to ensure 100% customer satisfaction.
Find out more
Explore the full range today and elevate your entryway to a whole new level of sophistication. It's time to make a lasting impression right from the moment your guests arrive. Shop the range now and discover the luxury your doorstep deserves!