Premiumdealer Kerkhof Laren
Family business KERKHOF LAREN of 70 + years is famous throughout the Netherlands because they are "Unconventionally Unique."
RiZZ BV in Nijkerk, The Netherlands has connected with some great partners throughout the years. We visited one of our top premium dealers to catch up and understand how they are doing.
Driving through Laren was an experience in itself. Once at my destination, I enter a somewhat unconventional but fascinating combination of shops. At first glance it looks like an old-fashioned hardware store where every type of bolt and screw can be found. But further on, the store turns into a modern showroom with, among other things, luxurious outdoor garden furniture and accessories. Here I meet high-end boutique and hardware family member Nilleke van den Brink and sales advisor Adriaan Boor.
I got more curious and sat down with Adriaan as he began to tell me about Kerkhof Laren…
A unique High-end interior and exterior showroom.
Wow!! I said to Adriaan, what an experience when you walk in here!
Yes, a bit strange, right?! Our customers have the same experience as you just had. It is a bit strange because in addition to a hardware store and a shipping service, we also have a beautiful showroom where only exclusive high-end garden furniture and accessories such as RiZZ are offered. Let's just say a unique combination.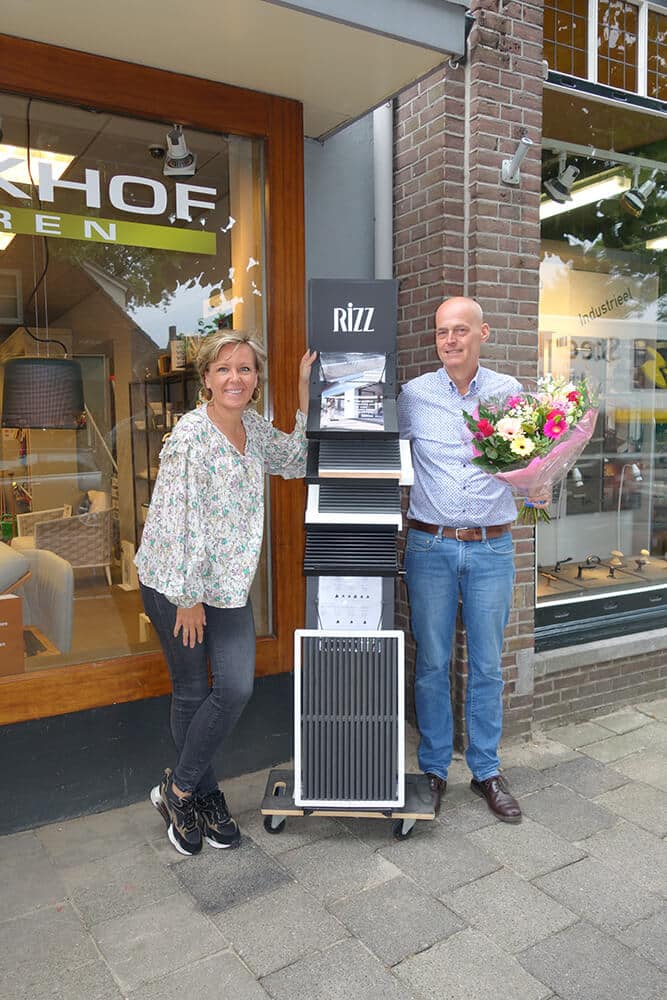 How Kerkhof Laren became a specialist in its field.
Can you tell us something about how Kerkhof Laren started?
Kerkhof Laren is one such company that seems to have always been here, on Naarderstraat in Laren. We started with small household items but gradually the focus shifted to more high-end designer products. This was mainly because we wanted to differentiate ourselves from other local stores that appeared over the years. Our hardware store from 1920 has now grown into a specialized center of inspiration in the field of interior and outdoor experience. The beauty of our company is that when customers walk in for a certain product, they always leave with more.
An unconventional -unique experience, you would say?
Yes! And it works.
Product knowledge is "Key"
What do you think is the secret to success?
You must never reveal your secret weapon!
But it is very simple. What we do here is to ensure that we are specialists in our field and that we employ skilled people who know how to deal with our highly valued customers. That has always been our top priority. Over the years we have invested in building our name. When Kerkhof Laren has IT, our customers know that it is of excellent quality.
Speaking of customers, has the market changed a lot since you started here?
Certainly! The most important change for us is the rise of online. Where people used to go into the store to purchase their product, today they shop and research a lot more online. In addition, customers have become more critical, they ask more questions and want to know more details about the product than before. This means that you really have to immerse yourself in your assortment; otherwise you won't sell anything.
At Kerkhof Laren, we listen to our customer and constantly improve. For example, we have now developed a well-functioning webshop and we deliver our products throughout the Netherlands.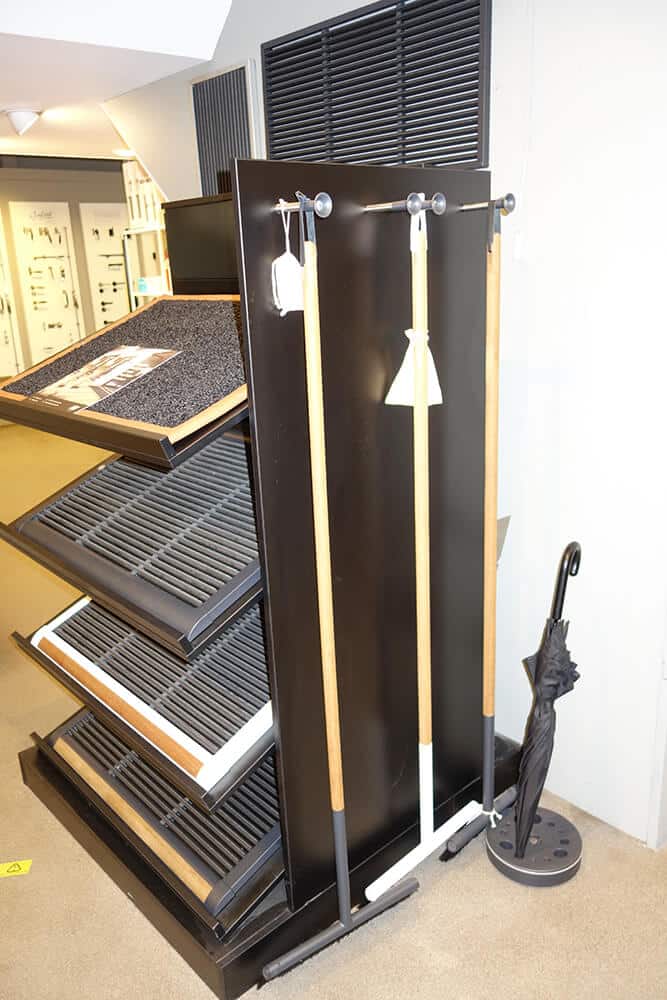 RiZZ premium Dealer for more than 15 years.
You have been with us for quite some time now in selling our Luxurious in and outdoor mats and brooms. If I am not mistaken, since the 80ties. You have included many high-end products since then.
Why did you choose for RIZZ luxurious products?
We were already working with the RiZZ group (then GeZu) at the time. The relationship we share is excellent. We choose RiZZ because of one lovely lady. Mrs. Trudie Zuiddam.
She visited us and shared her story on the new RiZZ Collection. We were immediately impressed by the way the mat was presented, and it fitted within our "unique" range. It felt like a logical step for us and we never doubted the potential of the product. We started with a small range, but the sales actually exceeded our expectations.
What were the reactions of the customers? And what questions did she ask?
You have customers who rely completely on our judgment. If it's for sale here, it must be good. But there are also customers who need more explanation about the product and, for example, the associated price. We would like to tell these customers more about the exceptional quality, functionality and durability of a RiZZ mat. About the fact that these mats are made by hand and come with a 10-year warranty.
Why does RIZZ fit within your portfolio?
RiZZ mats are really 'one of a kind', there is nothing comparable. It solves a daily problem in style. The RiZZ collection is not only about functionality (daily dirt, sand and inconveniences), but it is also a product that really completes your home. Why stop decorating your home at the front or back door? The RiZZ collection is truly "The perfect finishing touch" for your home. Due to the different colors and sizes in which the mat is available, one will always match the design of your home.
What makes RiZZ an excellent addition to your portfolio?
If a company issues a 10-year warranty for the luxurious mats and brooms, that speaks louder than words for us. It's a good addition because it fits within our high-end range and it complements any other Top High-end product we have. You can just add it to whatever outdoor products you are advising. "So, why not" Adriaan adds.
Your success is our success
You are one of our best-selling Rizz premium Dealers in The Netherlands. Why are you so successful?
Our enthusiasm! We stand behind all of the products that we show here.
We naturally select them based on how unique they are and which products offer opportunities to grow. RiZZ is such a product!
In all fairness, once customers experience the product, they never want any different and come back for more.
Finally; What would you like to tell others who are thinking about a product like RiZZ?
Just do it! We have been working with RiZZ for over 20 years and If you are high-end, then these products should not be missing from your portfolio.
RiZZ:
Our carefully selected group of premium dealers operate in the top segment of the market for high-end outdoor and indoor living & styling, interior designers and architects. They see our products as the perfect addition to the customer's interior.
They see our products as the perfect addition to the design of a luxurious terrace or entrance.
We are proud to call Kerkhof Laren one of our Premium Dealers.
Curious about the assortment of Kerkhof Laren? Then visit their showroom at Naarderstraat 12-14 in Laren or take a look at their website.
Interested in becoming one of our exclusive dealers? Fill in our contact form and we will contact you as soon as possible!